Ricoh copiers are sometimes compared with other popular brands like Dell and HP. And this is because their performance is at par with each other.
If you have never heard of Ricoh before, you are in the right place. I'll show you why you should try their copiers by giving you an overview of their new models.
Let's get started.
Ricoh SP 330SFN
Let's start light. Ricoh SP 330SFN is an all-in-one device for light-to-medium-duty use in small offices. It is more known as the Ricoh SP 330SFN Black and White Laser Multifunction Printer. Yes, it is already a multifunction printer that is priced at only 305 USD. 
The 330SFN produces high-quality black and grayscale output and is competitively quick. However, it is only suitable for low-volume environments. This is actually because wireless networking and Wi-Fi Direct cost extra.
Despite these two minor issues, the 330SFN performs admirably in today's market and has far more advantages than disadvantages.
The 330SFN is a four-in-one because it can print, copy, scan, and fax. It is also too big for a typical desktop. However, these models have been of high-quality technology that guarantees confidence and speed. Especially when you would only be printing when printing documents in colour and black and white.
Despite the absence of Wi-Fi support, this model can connect to your company's computers without any problem. You won't need to use it with Wi-Fi.
Ricoh SP 5300DN Black and White Laser Printer
This model is actually more pricey than the Ricoh SP 330SFN, even though they are both multifunctional printers.
The Ricoh SP 5300DN Black and White Laser Printer cost $1,229. That's like 3 pieces of SP 330SFN. This single-function laser printer is designed for medium-to-high-volume printing in small to midsize offices and workgroups.
Its flexibility and portable size are the most significant contributors to its price. It is significantly smaller and lighter and has a more substantial number of expansion options. It measures 13.6 by 16.5 by 16.1 inches (HWD) and weighs 39.6 pounds. This makes the Ricoh model much more likely to fit comfortably on your desktop.
However, the graphics and photo output could have been better. However, it would still be an excellent choice for producing thousands of documents per month in busy, high-volume environments.
Just take note that this model has this tiny, unimpressive control panel. And the quality of its photo prints could be light.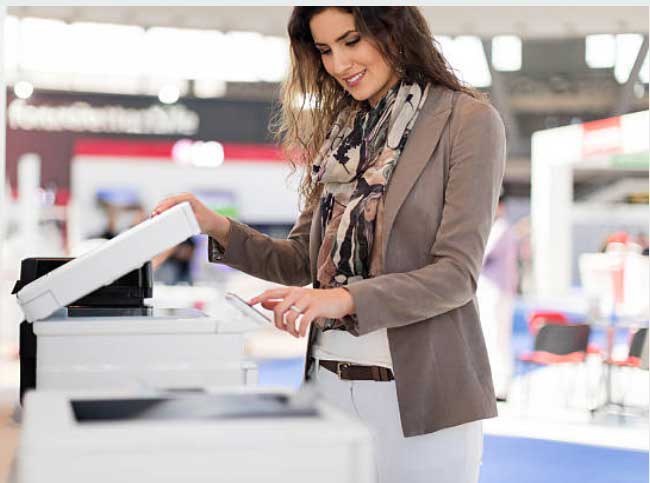 Ricoh MP 501SPF Black and White Laser
Like the previous model, the Ricoh MP 501SPF Black and White Laser Multifunction Printer (priced at $3,499) are also made for large offices and workgroups.
However, this model is highly expandable with high-capacity paper input, a tablet-sized touchscreen control panel, 350GB hard drive. It also prints well and quickly. Despite this, too many of the most common and useful features, like Wi-Fi, fax, and optical character recognition (OCR), will be expensive.
It's smaller and lighter, smaller and lighter, considering everything it does. It weighs 61.6 pounds and has dimensions of 25.4 by 18.7 by 19.8 inches. Just take note that it will cost you a lot for the add-ons such as Fax, OCR, and Wi-Fi features. However, its speed is reasonable on its excellent print quality. It also has robust security features that don't cost any extra.
Final Say
If you plan to get copiers for your office in Atlanta, you can opt to buy copiers or lease copiers in Atlanta. We can give you the option to get the copier that you want.  You can contact our local copier leasing services department in your location.
If your Location is around Atlanta, you may call us at (404) 369-0911, our personnel for copier leasing in Atlanta will assist you. If you are also looking for copier repair services in Atlanta, you may contact our copier repair personnel at the same number.
While all the mentioned models are priced reasonably, even though they all have these conditions when adding extra features, I suggest you go for the second option. Simply because it is not that costly and its security features and print output is top-notch.
However, if you need more information, don't hesitate to contact any Ricoh branches near you. Talk to us now.