Copier leasing in Atlanta offers Ricoh copiers and printers or MFPs (multifunction printers) are popular for being superb in graphic production, speed, capacity, versatility, and quality. Carrying a wide range of product lines, Ricoh offers feature-rich machines that can print, fax, and scan with some other models that only have basic functions only.
The brand's official website lists 22 models of printers in varying sizes capabilities & speeds and 45 copier models. The machines' prices range from thousands of dollars for high-performing large MFPs and a few hundred for those basic ones.
Ricoh copiers are the most popular for their high-quality, durable products that always please customers, 100%. In fact, many of Ricoh's machines have great customer service feedback. In 2014, Ricoh marked its 10th year as one of the most sustainable corporations in the world. Its sustainability innovations earned the Energy Star, a prestigious award from the Environmental Protection agency in the United States.
Another great copier leasing company highlight of Ricoh is its remote service management. If you are a customer and it breaks down, your machine instantly sends a message to the manufacturer calling for immediate servicing. For many years now, Ricoh has fulfilled their promise of getting back within an hour after the notice. There are also free drivers, manuals, FAQs, and how-to videos to help customers troubleshoot their machines on their own.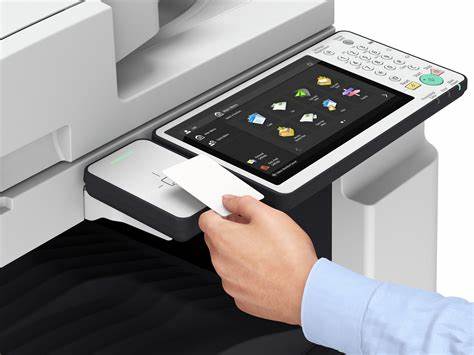 Who makes Ricoh copiers?
Like several other top copying brands in the world, Ricoh originated in Tokyo Japan in 1936. The brand's main product back then was cameras and it was only in 1955 that they first launched their very first copier machine.
Today, Ricoh is one of the world's best copier manufacturers with more than 200 stations around the world. In Canada alone, the company's workforce is 2500; contributing largely to their overall 97,000 workforce in the world. Aside from printers and copiers, the company also produces management software, interactive whiteboards, and cameras.
What is the best Ricoh copier on the market?
If you are planning to lease a copier like Ricoh's copying machine, there are hundreds of models to choose from. To make your decision-making easier, you should first know the kind of copying machine you want. After, you will have to set a budget and make a list of the features that you want your machine to have with it. You can also consult experts about this matter and they can do this checklist for you.
For this post, we will be featuring one of the most popular Ricoh machine models in the market today.
The Ricoh 5300DN SP B&W Laser Printer is a basic model designed for medium-volume printing in midsized workgroups and offices. While this is lighter and smaller than its counterpart Dell S5830dn, the model has more expansion capabilities and definitely is cheaper in terms of operating costs.
The expansion capabilities include a 300GB hard drive that is able to store, hold, and lock materials for later printing and retrieval. It's up to you, you can install the driver yourself or ask for help from a licensed technician. However, the price will depend on where you buy the drive and who installs it for you.
Conclusion
For many years Ricoh is consistently one of the leading copier and printer companies in the world. The brand prides itself on its reliable, practical, and sturdy models. With super fast speed, Ricoh machines are able to produce high-quality materials thanks to their modern technology that makes sure you are getting the best value for your money. They are also the best in terms of energy savings and operating costs.
Ricoh models' varying features and abilities perfectly fit the needs of businesses regardless of workload. There are offices that need basic copier leasing services, while some others require machine models that house several features in one package. Whatever it is that you need, you are sure to find a Ricoh machine model that can meet your workload and printing practices.
If you plan to get copiers for your office in Atlanta, you can opt to buy copiers or lease copiers inAtlanta. We can give you the option to get the copier that you want.  You can contact our local copier leasing services department in your location.
If your Location is aroundAtlanta, you may call us at (404) 369-0911, our personnel for copier leasing inAtlanta will assist you. If you are also looking for copier repair services inAtlanta, you may contact our copier repair personnel at the same number.